Immature Chipping Sparrow visits
Either we had a Chipping Sparrow nest nearby or I guess it could just be passing through because now we have a juvenile Chipping Sparrow on the deck! It just showed up a few days ago and may be gone already now. Here's a few pictures of the tiny brown bird.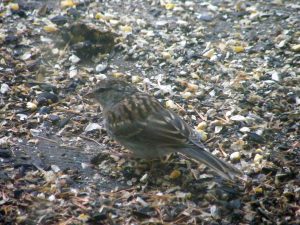 Note this young bird doesn't have the solid chestnut-colored cap on its head like I would expect from an adult bird making me label this a juvenile Chipping Sparrow.