There are official signs of fall and one of them is the arrival of the first Dark-eyed Junco! I thought I saw one a couple evenings ago but wasn't sure. Then the next day I did spot a male and female pair eating on the ground late in the evening with light too low to get a good picture.
I stood outside the next afternoon for about an hour. I could hear the male calling its fast pitch call from the willow tree. I waited and finally the male came in under one of the sunflower seed feeders on the ground nearby picking up dropped seeds and chewing out what is left! I was able to snap a few pictures.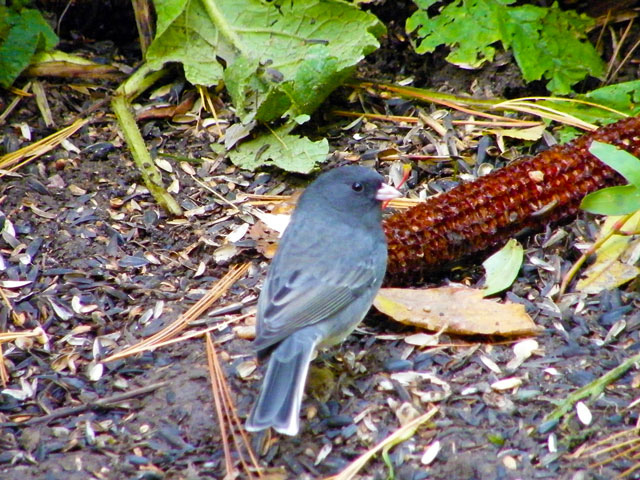 People have been reporting Dark-eyed Juncos at their feeders for the past week so I won't say my sighting on October 27 is the first sign and proof of fall but it is pretty close. I expect some of the fall sparrows to start showing up soon now too. I'll get a picture of the female one of these days, and probably some more will show up too.
Enjoy the fall and winter birds as they show up at your feeders and comment below if your Dark-eyed Juncos feed at the actual feeders? Mine are always feeding on the ground underneath, never at the actual feeders.